Hi Everyone! Yep, that time of the week again - Throwback Thursday! The day I bring out the retired stamp sets, not just the sentiment ones.
This stamp set is called Very Punny and it is from 2007.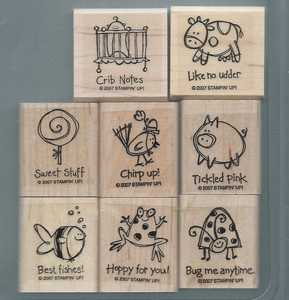 Aren't they the cutest!!??
One of our neighbours LOVES Ladybugs and her Birthday is coming up!
Remember the other day I mention a universal layout? This is the exact same layout, just changed the orientation of the card. You can find out what I am talking about here.
Not shown in the photo, but I added Crystal Effects to the Ladybugs body. It looks amazing!
Supplies:
Paper:
Inks:
Stamps:
Accessories:
Bakers Twine (not Stampin' Up!)
Scissors for fussy cutting
Thanks for stopping by, if you have any questions let me know!
Happy Stamping!
Don't forget to use the hostess code at the top on the right when you are ordering. If your order is $200 or more please do not use the code, as you become the hostess.
If you liked any of the supplies, to shop, or to get a catalog, please feel free to contact me, and of course you can shop online for Stampin' Up! Canada products directly through me by clicking the 'shopping cart' button on the right. And if you're thinking of joining Stampin' Up! Canada and want to join my team I'd would love to hear from you!